Rising Above – Nkosinathi Bhebhe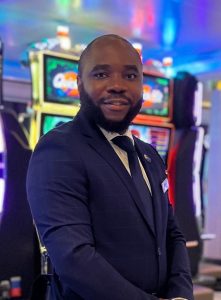 Nkosinathi Bhebhe
CAGE MANAGER
I have been with GCO since December 2012 making this coming December my 11th year with this amazing family.
I would say what makes me feel most empowered within my role is knowing GCO supports growth and opens immense opportunities for each team member. I am one of the many examples of this in that I started off at an entry level position of Slot Attendant, through the training and mentorship of the GCO management team, both shoreside and onboard, I have worked my way to cage manager. The opportunities granted to me over the years to grow in my career encourage me to do better and look forward to offer the same to my fellow team members that want to progress in their field of choice.
Having been with the company for so long there are quite a few people I would say played a part in my development. Namely – Dan Watkins, Damian Farrell, Claudia Istrate, Ovidiu David, Ivaylo Ivanov, Seba Muresan, Nick Austin, Joseph Kunjachan, Agnieszka Plata, Julie Benstead, Graham and Lorraine Macaulay, Themba Masango, Mihaela Gavrila and Georgiana Degeratu just to mention a few, all have in their own way contributed to my growth. I am sure I have missed out several names but the above where first to come to mind and thank you to everyone at GCO.
I look forward to pushing boundaries of my potential, meeting incredible team members, embracing the lessons that both successes and setbacks provide and creating memories with the GCO family in the many years to come. My wife and kids are such great support and I thank them for allowing me to be part of the amazing GCO family.